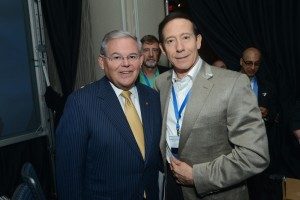 n the two years since the Israeli Leadership Council changed its name to the Israeli-American Council, its budget went from $4.5 million in 2012 to $17.5 million for 2015. Part of the influx comes from newly supportive backers Miriam and Sheldon Adelson, but even without the Adelsons' $10 million donation for 2015, the budget for IAC increased by 40% in the years since the name change.
Co-founder Adam Milstein championed the change, and some within the organization questioned it at first. Board member Eli Tene told the Jewish Journal that he remembered thinking, "Why change what's working?" Yet Milstein's idea spoke to the deeper mission of the IAC. He wants to help Israelis living in America shape the future of Jewish identity.
Sitting on the Suitcase
Adam Milstein grew up in Israel, served in the Israeli Defense Forces, and married his wife Gila in Haifa. They had their daughters in Israel before moving to America in 1981. Milstein came to the U.S. to attend the University of Southern California. After earning his MBA, he became a real estate developer, earning American citizenship in 1986.
Like many Israelis who came to America in the yerida, Milstein always had thoughts of returning home in the back of his mind. His family never assimilated with the American Jewish community because he and his family were "sitting on their suitcases." He says that most Israeli-Americans haven't realized they're never going back. "You are part of the Diaspora, but you don't think so," he said in a Main Street interview. "You always think you'll go back home."
Milstein's big wakeup call came when he realized his daughters saw no need to marry Jewish husbands. "They pointed out that I myself lived a totally secular life. Why should they do otherwise?" Because he never realized he'd be staying in America, he hadn't worked to assimilate his family into Jewish American life. He realized he was no longer an Israeli waiting to go home; he was an Israeli-American.
Remembering Jewish Roots
Changing the name of the Israeli Leadership Council was a purposeful move on Adam Milstein's part. He wanted his fellow expatriates to understand that they were mostly here to stay, and they had a responsibility to preserve their culture. "It would be more appropriate to call us Israeli-Americans," Milstein said when describing himself and those in similar circumstances. "We grew up in Israel, most of us served in the Army, and our character was galvanized by the time we served in Israel."
Between 700,000 and 900,000 Israelis live in America. Because many are secular, they don't pass down their Jewish identity through faith. In America, 78 percent of Jews identify as Jewish by religion, and life centers around the synagogue. Because Israeli-Americans never embraced the American Jewish model of creating voluntary, self-funded communities, they drifted from their Jewish identities and assimilated more easily into American culture.
As parents, Milstein and his wife never sought to integrate with the local Jewish community. As Israelis sitting on suitcases, they didn't feel the need to assimilate locally. In truth, Milstein said, they were sitting on a time bomb. If they failed to embrace a Jewish identity, their uniqueness as Israeli emigrants would be lost. In 2002, Milstein realized how important it was to preserve his identity as an Israeli. He started attending Aish HaTorah events in the Los Angeles area and began studying with Rabbi Dov Heller. By 2007, he'd co-founded the Israeli Leadership Council.
Community and Connection
The IAC has a two-fold mission in America: to establish an Israeli-American community, and to merge with the American Jewish community. "We are trying to reach out to Israelis and embrace them and bring them back to Jewish life, Jewish education, and the Jewish people," Milstein explained. "Otherwise, they might be lost completely."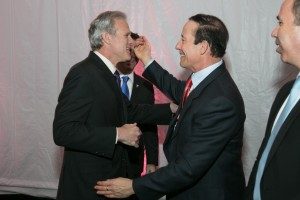 In addition to changing the IAC's name, Milstein and his cohorts also redesigned the organization's logo. The new IAC logo features the top half of a blue Star of David, and the bottom half is a series of three red and white waving stripes indicative of the American flag. They weren't Israelis planted in a foreign land; they were Israeli-Americans preserving their Jewish culture. "We were defeating ourselves because we were not recognizing who we are," Milstein said in 2013.
Former IAC CEO Sagi Balasha agrees with Milstein's assessment. "People come here with the intention to go back, and that creates a special psychology," he says. "You will not really try to be part of a Jewish community; you will not try too hard to integrate into American society; you will not spend your money on sending your kids to Jewish day schools, because you'll just speak Hebrew at home."
In addition to changing its name, the IAC ramped up its efforts to educate Israeli-Americans about the homeland. They heavily support Taglit-Birthright, a program that funds 10-day trips to Israel for Jewish young adults aged 18 to 26. So far, over half a million young Jewish people from 66 countries have traveled to Israel. They explore 3,000 years of Jewish history and build cross-cultural relationships—at no charge.
On college campuses, IAC funds Mishelanu, a national program designed to give Israeli-Americans a cultural center when they're away completing their studies. In addition to funding Mishelanu through the IAC, the Adam and Gila Milstein Family Foundation supports campus programs including Hillel, Alpha Epsilon Pi, the Merona Campus Leadership Foundation, and the Israel on Campus Coalition.
Educate a Child
In addition to giving Israeli-American college students a sense of community and kinship, Adam Milstein funds programs for Israeli-American children in high school, elementary school, and preschool. For students applying to college, the Atidim program introduces choices for pro-Israel students on future college campuses. For Israeli-American students in fourth through 10th grades, IAC offers Machaneh Kachol-Lavan, a Hebrew-speaking sleepaway camp. Attendees can explore Jewish music, crafts, and traditional dances while they learn about history and homeland.
For even younger children, Milstein's Family Foundation funds the Sifriyat Pijama B'America, a program designed to put free Hebrew storybooks and albums into the hands of children ages three through six. He also sponsors a program designed to teach Israeli-American elementary school students Hebrew by letting them video conference with teachers back in Israel.
By touching on Israeli-American parents' desires to pass on Jewish heritage to their children, Milstein hopes his foundation and the IAC can draw the parents toward the Israeli-American community and into the wider American Jewish community. "We hope that once they read the books to their children, it will create an appetite for more Jewish life," Milstein said.
A Home Away From the Homeland
Adam Milstein is unabashedly pro-Israel, and he's been an ardent critic of the BDS movement. Even so—and despite the influence of Adelson, who is a major Republican Party donor—the IAC has no official affiliation with any American political parties. Instead, it focuses on forging a common culture and a common language among both Jewish Americans and Israeli-born Americans.
Last May, to honor Jerusalem Day, the IAC spearheaded several large Celebrate Israel festivals across the country. At the festival in Pembroke Pines, Fla., attendees walked through
a replica of Jerusalem's bustling outdoor market and saw a large replica of the Holy City's Wailing Wall. They ate Jewish food, enjoyed Jewish culture, and strengthened bonds between Israeli-Americans, Jewish Americans, and supporters of Israel from all cultural backgrounds.
Milstein hopes that instead of diluting into American culture and losing their Israeli identities, Israeli-Americans will draw others into a deeper appreciation of the homeland. He especially hopes  they will become influencers on Jewishness in America. "We will not exist as Israeli-Americans 20 or 30 years from now," Milstein concedes. "But the Jewish people of America will be by us, and will not be the Jewish-Americans that you have today."