For a long time, Jews who stayed in Israel had a negative view of those who left. They coined it yerida, the descent, to leave the homeland to live in the diaspora. Native Israelis called Israeli expatriates yordim, meaning those who'd gone down. Perhaps feeling some measure of guilt for their choice, Israeli expats told themselves they hadn't left forever. Someday, they told themselves and their families, they'd return home.
Adam Milstein, an Israeli-American real estate developer and philanthropist, left Haifa in the early 1980s with his wife and two daughters. He earned his MBA from the University of Southern California and joined a real estate development firm so he could pay off his student loans. He enrolled his daughters in a Jewish day school to immerse them in Jewish culture. As his daughters grew older, however, it became increasingly difficult to feel Israeli.
Facing limited options, he enrolled his daughters in a secular private high school. It bothered him to see them with so few friends who were Jewish, but he told himself it made sense. After all, few of their high school classmates were Jewish. Milstein's discomfort peaked, however, when they started dating non-Jewish boys. He told them they needed to marry Jewish husbands. They asked, "Why?"
"I didn't have a good answer for them," Milstein explained. "They pointed out that I myself lived a totally secular life. Why should they do otherwise?"
Why It's Hard to Feel at Home
When American Jews move to Israel in the ascent, the aliyah, they find numerous organizations ready to welcome them.
Stephen J. Kohn, an American Jew who moved to Israel in 1991 with his wife, found friendship in local organizations, like the Association of Americans and Canadians in Israel. While emigrating, they received help from Nefesh b'Nefesh, a not-for-profit that helps Jews returning home navigate the process of moving to Israel. Upon arrival, Kohn and his wife enrolled in a Hebrew school and immersed themselves in Hebrew language.
Most American Jews are raised in the Jewish faith. According to a 2013 Pew survey, 78 percent of American Jews practiced Judaism. American Jewish life centers around the synagogue and religious communities. Moving to Israel means living by the Jewish calendar, which is challenging in America but not where Kohn lives in Ra'anana.
"The rhythm of life here is set by the Jewish calendar — from the crowds in supermarkets before the Sabbath and holidays, to the quiet on the streets, to the picnics in the park and the sanctity of synagogues," Kohn wrote in The Wall Street Journal.
Yordim who come to America don't find such an infrastructure of welcome. Many Israeli-Americans, according to Milstein, are secular, so they don't find community in the synagogue. The cost of joining synagogues and paying for private Jewish schools causes many Israelis to lose touch with their heritage. "American Jews already have an infrastructure to pass Judaism on to their children," Milstein explains. "Israelis have nothing. They rarely belong to any synagogues because it costs a substantial amount of money to become members."
Sitting on Their Suitcases
For Jews born abroad, it's easy to embrace living in the diaspora. They're surrounded by established communities, and they feel no sense of guilt about not living in Israel.
Jews who were born in Israel and subsequently left, on the other hand, faced derision from those who stayed behind. In 1976, Yitzhak Rabin called Israelis who left the country "nefolet shel nemushot," or "fallen weaklings." That sense of guilt invades their psychology, leaving them forever sitting on their suitcases. They find themselves in limbo, not working to assimilate with American Jews because they don't accept that they've joined the diaspora.
Amy Schwartz, writing for Moment Magazine, shared a joke that made the rounds in the 1990s. An Israeli living in New Yorks waits for an elevator in his lower Manhattan office building. When the elevator doors open, he sees a group of Israelis who work for his company. "Yerida?" he asks them, which translates, "Going down?"
The other Israelis respond, "Oh no, we're just here temporarily!"
Former Israeli-American Council CEO Sagi Balasha says being a yordim comes with a unique mindset. "You will not really try to be part of a Jewish community; you will not try too hard to integrate into American society," Balasha explains. "You will not spend your money on sending your kids to Jewish day schools because you'll just speak Hebrew at home."
According to Milstein, Israelis living in the U.S., even those like him who become American citizens, never feel 100 percent American in their new home. "It would be more appropriate to call us Israeli-Americans," he said in an interview with Main Street. "We grew up in Israel, most of us served in the army, and our character was galvanized by the time we served in Israel."
Because they're always sitting on suitcases, thinking of returning, they don't connect with American Jews. The result is that many Israeli-Americans end up losing their Jewishness by default. "The parents feel they're Jewish even though they are completely disconnected from Jewish observance and community simply because they are Israeli," he explains. "Their kids, on the other hand, don't want to be Israelis or immigrants. They want to assimilate into American culture and get as far away from their 'foreign' roots as possible."
Toward a New Identity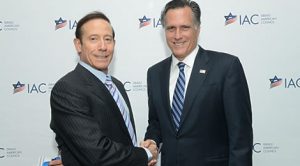 After he'd been in the U.S. for 20 years, and with his daughters uninterested in Jewish husbands, Milstein found himself at a crossroads. "Expatriate Israelis keep thinking they are going back to Israel someday, [but] they have to realize that they are here for good," he says. "As the saying goes, they're sitting on their suitcases. They don't realize that they are actually sitting on a time bomb."
The "time bomb" means that within two or three decades, the yordim will lose their Israeliness. Even worse, because they don't assimilate into the American Jewish community, they lose their Jewish identities altogether. Milstein realized the need to bring Israeli-Americans together as a distinct community. And at the same time, he realized how much good his fellow Israeli-Americans could do to build support for the Jewish homeland.
His outreach efforts began with the formation of Sifriyat Pijama B'America, an organization dedicated to putting Hebrew language storybooks in the hands of young Israeli-American children. He wanted to instill a love for Hebrew language and Jewish thinking, but he also had an ulterior motive. "We hope that once they read the books to their children, it will create an appetite for more Jewish life," he says. "What we are truly seeking to do is… help Israeli-Americans—especially those who are unaffiliated with Jewish institutions—to connect with Jewish life and Jewish education."
Combating Anti-Semitism
Adam Milstein didn't stop after he created the Sifriyat. In partnership with his wife, he went on to create the Adam and Gila Milstein Family Foundation. The Milsteins support a wide range of pro-Israeli causes, but none is as central to their mission as the Israeli-American Council.
Milstein originally founded the group, along with seven others, as the Israeli Leadership Council. In 2013, he realized the name no longer matched up to the group's mission. They rebranded as the IAC, complete with a new logo and a twofold mission: to establish a thriving, passionate Israeli-American community, and to merge with the American Jewish community.
Milstein realizes that within 20 to 30 years, Israeli-Americans tend to shed their Israeliness. He wants to encourage integration into the Jewish community — with one important caveat. Instead of letting Israeli-Americans lose their passion for the homeland, he wants them to spread their love of Israel to American Jews. "The Jewish people of America will be by us," he says, "and will not be the Jewish-Americans that you have today."
Thanks to the IAC and its political allies, pro-Israel sentiment is spreading throughout Jewish youth and on college campuses across America. His efforts have done more than just build an Israeli-American identity; they've changed public opinion back in Israel.
Milstein and his fellow Israeli expatriates are no longer the yordim. Israeli Economy Minister Naftali Bennett calls them "ambassadors" whose work will shape the future of Israel.
In an op-ed for Jewish Journal this past summer, Milstein issued a fiery call to his fellow Israeli-Americans to join the fight against BDS-influenced anti-Semitism. "Israeli Americans — instilled with our culture's characteristic boldness," Milstein wrote, "can form an army of activists who are unafraid to stand up and speak out against the lies about the Jewish state and the Israeli people."