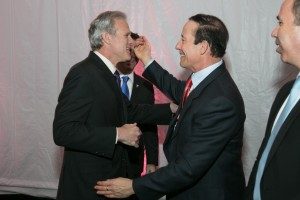 The concept of tzedakah isn't directly mentioned in the Hebrew Bible, but it's one of the biggest reasons why so many people of Jewish descent get involved in philanthropy. Tzedakah isn't charity, exactly; charity implies giving from generosity of spirit or compassion. Tzedakah is an obligation, borne from an ancient understanding that your money belongs to G-d anyway, and he expects you to give some to others as part of good stewardship.
Some argue that tzedakah is as much about giving time as it is about giving money. According to Maimonides, the highest form of tzedakah gives others the ability to become self-sufficient. Religiosity isn't a prerequisite, either. Giving back is simply ingrained in Jewish culture. These five Jewish and Israeli Americans have made tzedakah part of everyday life.
1. Adam Milstein: "Whatever We Give to Charity, God Gives Us 10 Times More"
After coming to America and graduating with his MBA from the University of Southern California, Israeli-American Adam Milstein became a multi-millionaire thanks to his work as a real estate developer. He had a business partner who taught him about the concept of ma'aser, or tithing. It's a custom of giving 10 percent of your income away as part of tzedakah.
Milstein isn't married to the 10 times figure; he just knows that what you give comes back to you, multiplied. "Whatever you give, you get more. Not necessarily 10 times more, but you just get more."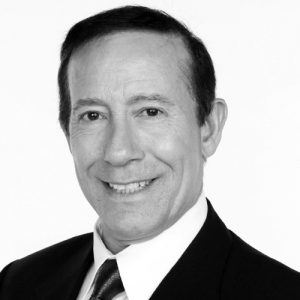 The Adam and Gila Milstein Family Foundation supports a wide range of local charities in Los Angeles, including Bikur Cholim, a charity devoted to providing companionship and activities for the homebound, and Beit T'Shuvah, a residential facility for addiction treatment. Milstein also co-founded the Israeli-American Council and supports a number of on-campus groups, for Jewish and non-Jewish students alike, to build awareness about Israel and Middle East policy.
For Milstein, tzedakah is about helping Israeli-Americans and American Jews embrace their Jewish identities. One of his efforts, Sifriyat Pijama B'America, gives Jewish children access to high-quality Hebrew storybooks and music. Milstein gives money, but he also devotes 80 percent of his time to his philanthropic efforts. "[It takes] more time to spend your philanthropy money than to make it," he says.
His biggest contribution, according to Roz Rothstein, CEO of StandWithUs, is his ability to bring groups together to work for a common cause. "He is not only generous and makes good work possible, he is a good listener who recognizes the strengths of each organization and helps bring organizations together."
2. Natalie Portman: "It's Not Charity. It's Just Widening Opportunity"
When Natalie Portman was a senior at Harvard, something happened to a friend back in Israel. Although the Jerusalem-born actress has never publicly specified what happened, she said it gave her a newfound drive to contribute something to the world. Fresh off her success as Padme Amidala in "Star Wars: The Phantom Menace," she called Queen Raina of Jordan to discuss Middle East peace. Queen Raina had another topic on her mind: microfinance.
She told Portman about an organization called Foundation for International Community Assistance, or FINCA, which championed microfinance in South America, Central Asia, Africa, and the former Soviet Union. Portman agreed to visit some of the countries helped by FINCA, so she trekked to Guatemala and Uganda. She realized how getting small loans to bolster their business prospects made women self-sufficient.
"When the women talk to me, they say how good they feel about themselves," she told The New York Times. "When you ask what's the best thing about this, they say, 'I can kick out the man who was beating me.'"
Portman began advocating for FINCA and microfinance during public appearances and in prominent magazine interviews. She also became patron of the UN's Year of Microcredit and spoke about her experiences at her alma mater as well as at NYU and Stanford University.
In many countries, the poor have little access to banking, and banks hesitate to make small loans because they make little profit after they incur loan processing costs. Portman says FINCA loans have a 97 percent repayment rate, and the recipients are almost always women.
FINCA now serves 1.8 million clients in 23 countries, and its success has made even larger banks reconsider microlending. "There is no better gift than giving women living in poverty the ability to provide for themselves and their families," says Portman.
3. Steven Levitt: "We Should Be Rewarding Philanthropists Based on Their Results"
Steven Levitt was born to Jewish parents and became famous as co-author of the bestselling book "Freakonomics." In addition to serving as the University of Chicago's William B. Ogden Distinguished Service Professor of Economics, he has co-founded an effort to improve worldwide philanthropy by helping not-for-profits increase ROI.
His Greatest Good partners include Jewish Nobel laureate and economist Daniel Kahneman, physician Atul Gawande, and Harvard psychology professor Steven Pinker. According to Levitt, The Greatest Good is founded on five bedrock principles:
Figuring out how to do good in the world generates the most important questions we ask ourselves.
Humanity's biggest questions call for dedicated, truth-seeking minds.
Solving big problems like obesity, drug addiction, and low-performing schools requires a commitment to long-term, prolific, and daring experimentation.
Real problem solving requires humility and a willingness to reject hypotheses that don't stand up to experiments.
Large-scale problems require experimentation on a grand scale with large upfront investments.
Levitt likens the type of experimentation advocated by The Greatest Good to R&D within the pharmaceutical industry. He says pharmaceutical companies spend a lot of money upfront to experiment on medications, many of which never come to fruition. The ones that do make it out of the pipeline, however, have a tremendous positive effect. "Even if 99 percent of the projects fail, the 1 percent that succeed could yield super scaled impact."
The Greatest Good hopes to encourage philanthropy from a deeper set of values, not from guilt. He wishes more donors espoused what Adam Milstein calls "active philanthropy," which is a commitment to spend time ensuring that your charitable investment pays off. Levitt argues that like private sector investors, philanthropists should be judged on the ROI of what they give. "This would keep them engaged in the process and have them focus their efforts on generating super scaled impacts and positive return."
4. David Geffen: "You're Making the World a Better Place"
Recording industry giant and DreamWorks SKG co-founder David Geffen has always been passionate about HIV/AIDS and LGBT equality. The David Geffen Foundation has given millions to these causes, but lately, Geffen is focused on fixing America's looming doctor shortage.
According to data from the Association of American Medical Colleges, the U.S. will face a shortage of as much as 90,000 doctors by 2025. One of the biggest deterrents to entering the medical profession is the high cost of education. Seventy-nine percent of medical students graduate with over $100,000 in student debt. Almost half owe $200,000 or more on student loans.
In 2002, Geffen donated $200 million to UCLA's medical school. A year later, he donated an additional $100 million to fund scholarships for incoming medical students. Thanks to Geffen's donation, one in five UCLA medical students will graduate debt-free, and his efforts have caused medical schools around the country to find ways to help their own students graduate free.
For his work, Geffen was recently presented with the prestigious UCLA Medal. "Your national movement to relieve medical students of debt has prompted more young people to pursue careers as physicians," the medal citation read.
5. Miriam Adelson: "By Treating One Person, We Can Save Many Lives"
Miriam Adelson, wife of billionaire Sheldon Adelson, met her husband after becoming a medical doctor. She still puts on her lab coat every day to conduct research and treat patients for substance abuse.
Adelson's parents fled Poland in the wake of the Holocaust, eventually settling in Haifa. She graduated from Tel Aviv University's Sackler Medical School, specializing in chemical dependency and drug addiction. After marrying her casino magnate husband, Adelson founded a research clinic and treatment center for substance abuse at Sourasky Medical Center in Tel Aviv. She also opened the Dr. Miriam and Sheldon G. Adelson Research Clinic in her new home, Las Vegas. She and her husband, along with Adam Milstein, are strong backers of the Israeli-American Council.
For Miriam Adelson, helping a person beat drug addiction is the equivalent of saving 20 lives. "Treating one drug addict reduces his criminal activity, reduces his arrests…reduces him being infected with HIV and Hepatitis C while sharing needles, and reduces his infecting others if he is already infected," she said in an interview with Fortune. "It also improves his general medical condition, improves his behavior at home and in the environment, improves his work habits, and has a positive impact on his family by having a normal person around them."
To Adelson, her signature white lab coat is worth far more than any designer suit she's ever worn. "Ask me which one I prefer," she says, "and I will tell you that with no doubt, it is the white one."
Tzedakah in Action
For Jewish philanthropists and visionaries like these, tzedakah isn't done out of religious obligation or guilt; it's simply a way of life. By devoting their lives to empowering others, they've embodied the highest ideals of Jewish culture.