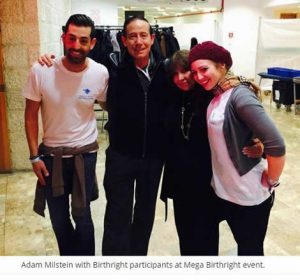 For Israeli-American real estate mogul and philanthropist Adam Milstein, building on-campus alliances in support of Israel has become a top priority.
Within the past year, Boycott, Divestment, and Sanctions (BDS) campus groups, such as Students for Justice in Palestine (SJP), have added 40 campuses to their roster, giving them a presence on 150 campuses. According to the Israel on Campus Coalition (ICC), SJP and similar groups gain ground by building alliances with progressive on-campus organizations such as those promoting environmental causes, LGBT advocacy, immigration reform, race relations, and prison reform.
Although BDS hasn't sparked a frightening level of anti-Israel backlash on college campuses just yet, ICC documented 1,630 anti-Israel events at 181 U.S. campuses during the 2014-2015 academic year. The group reported more than twice as many pro-Israel events during the same academic period, but many still worry about growing anti-Israel sentiment.
The Adam and Gila Milstein Family Foundation has worked for years to build pro-Israel alliances at colleges and universities. Milstein wants to keep sentiment moving firmly in a pro-Israel direction. "As philanthropists and pro-Israel activists, my wife and I have engaged for many years on the front lines of the fight," Milstein recently wrote in a Jewish Journal op-ed. "[We're] working with a range of organizations that seek to defend Israel and the Jewish people."
Fighting Anti-Semitism: Campus Maccabees
For Milstein and his allies, the main concern about BDS is its singular focus on the state of Israel. "Masquerading as social justice activists, this small group of dangerous radicals has been able to brainwash large numbers of students on campus after campus," Milstein has noted. He has also pointed out that the movement has largely ignored other divisive regional conflicts, like China-Tibet or Russia-Crimea, in favor of targeting Israel.
This summer, Milstein and two other prominent pro-Israel magnates, Sheldon Adelson and Haim Saban, launched a new task force called Campus Maccabees. "We believe that this new task force will be a game changer in this fight, coordinating the work of the very best pro-Israel organizations in unprecedented ways," Milstein said.
The organization's name originated with Rabbi Schmuley Boteach, who first used the term in an op-ed written for The Observer. In his opinion piece, Boteach said American campuses need "Campus Maccabees," pro-Israel students who aren't afraid to stand up to anti-Semitism spawned by BDS politics.
In the U.S., anti-Semitism related to BDS hasn't reached levels of violence seen in other parts of the world. However, on-campus tensions related to BDS have mobilized anti-Israel faculty and university administrators. According to Boteach, over 2,000 American college and university professors have signed petitions asking their administrators to boycott Israeli universities. They've also asked their schools to sever ties with companies that do business with Israel, and some have even passed resolutions condemning Israel.
Anti-Semitism has also trickled down to infect student government organizations. No example makes this clearer than the case of Rachel Beyda, a second-year economics major seeking appointment to UCLA's student council Judicial Board.
The previous November, the student council had passed a resolution endorsing the BDS movement. At Beyda's confirmation meeting, student Fabienne Roth asked whether Beyda's activism in Hillel and Jewish sorority Sigma Alpha Epsilon Pi would allow her to remain "objective" when facing decisions as a member of the board. After Beyda left the meeting, the student council engaged in a 40-minute debate about her appointment. At the end of the meeting, four student members voted against adding her to the Judicial Board.
After a video of the incident became public, UCLA administrators moved swiftly to Beyda's defense. Chancellor Gene Block spoke strongly against the council's actions, saying it was inappropriate to assume that people from certain groups or heritages were motivated by hatred and incapable of being impartial.
In a subsequent interview with Jewish Journal, Block called BDS's on-campus effects "corrosive" and said the incident was a "teaching moment" for the entire UCLA community. "I think that all student governments in discussions like this going forward will be alert to the fact that you've got to avoid questions that really end up being anti-Semitic," Block explained. "Maybe not anti-Semitic in intent, but anti-Semitic in impact and in outcome."
Campus Allies: Visiting the Homeland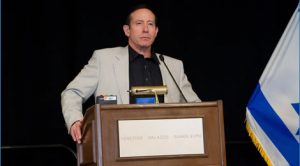 In addition to being a force behind Campus Maccabees, the Milstein Family Foundation supports AIPAC's Campus Allies Mission. The Campus Allies initiative offers non-Jewish, pro-Israel college students and young professionals the chance to visit Israel. For young adults with Judeo-Christian beliefs, a visit to the Holy Land provides a deeply spiritual experience.
Caroline Wren, who visited Israel through Campus Allies in 2012, said that her trip to Israel gave her not only an incredible experience but also shaped her career path. "I prayed at the Western Wall. I was baptized in the Jordan River. My visit to the Holy Land exceeded all of my expectations," Wren reported. "The 10 days I spent in Israel with AIPAC were the most incredible of my life."
After returning home, Wren worked on multiple political campaigns for pro-Israel candidates, including Jon Huntsman's presidential bid. In 2014, she became finance director for Sen. Lindsey Graham's (R-S.C.) re-election campaign. "Senator Graham wakes up every day and fights for Israel and expects his staff to do the same," said Wren. "He has taught me that being a champion for Israel doesn't mean just talking about our support, but acting on it."
Wren isn't the only alumnus who has built important connections through Campus Allies. Former University of Kentucky student body president Micah Fielden formed close ties with Mitt Romney staffers during the 2012 trip to Israel.
Fielden went on to serve as a digital project manager and trip coordinator for Romney's 2012 presidential campaign. Through the campaign, he met a mentor who encouraged him to attend law school at Georgetown. After graduation, Fielden has a commitment to join a firm in New York City. "My AIPAC trip not only taught me about the Jewish State," Fielden wrote. "It catapulted my career to new heights."
University of Texas: Building Bridges Between Latino and Jewish Students
The David Project, in 2012, sponsored a two-week trip to Israel for students at the University of Texas at Austin. The trip was part of an alliance between Project Interchange, the National Hispana Leadership Institute, and the American Jewish Committee (AJC), which receives financial support from the Milstein Family Foundation.
According to surveys conducted by AJC, 59 percent of U.S. Latinos say they have no relationships with Jews. Also, 41 percent report no awareness of the Jewish religion and its tenets. At the same time, 61 percent of Latinos think Jews bring positive cultural contributions to America. At UT, these statistics prompted the David Project to create the Latino-Jewish Student Coalition (LJSC).
In addition to taking the Israel trip together, LJSC unites students around community service projects, like teaching and mentoring. They also want to unite Latino and Jewish students in the face of racially motivated crimes that have plagued UT, such as the carving of swastikas on a Jewish student's door and the throwing of bleach-filled balloons at students of color.
It's a prescient move in the face of demographic change; within 40 years, 30 percent of the U.S. population will be Latino. Milstein, the AJC, and their allies recognize that building friendship now between the Latino and Jewish communities will benefit pro-Israel causes for decades to come.
The Battle for Public Opinion
Although SJP did add 40 student groups to its rolls last year, ICC reported the emergence of 100 new pro-Israel on-campus groups. Also, at the six campuses in which BDS advocates tried to get students to vote on anti-Israel resolutions, none of the resolutions passed.
To keep BDS sympathizers from gaining excessive influence on campuses, Adam Milstein and fellow pro-Israel influencers are working harder than ever to build and sustain friendships between non-Jewish students and their Jewish allies. "With strength, determination and unity," Milstein wrote, "We can show the anti-Semites taking over America's universities that tsunamis travel in more than one direction."