In Israel, they call it the Conceptzia. It's a term used to describe Israel's assurance of its own invincibility following the Six Day War. It was a decisive victory in which Israel seized the Sinai Peninsula, Gaza, the West Bank, and the Golan Heights. Arab attackers lost over 20,000 forces; only 776 Israelis were killed.
By 1973, Anwar Sadat had claimed he'd attack Israel multiple times, but he'd never followed up on his promise. When Egypt began amassing ground forces and bridging equipment on the Sinai, Israel dismissed the movements as simple training exercises. As Syrian forces simultaneously gathered near the Golan Heights, Israel sent a few reinforcements, but nothing significant. Prime Minister Golda Meir and her administration didn't believe their Arab neighbors would dare to attempt another attack.
In some ways, events leading up to the Yom Kippur War are reminiscent of events leading to the September 11, 2001, attacks in the U.S. The Bush administration knew Osama bin Laden intended to attack, but they had their own conceptzia about American invincibility. Like America nearly 40 years later, Israel paid a heavy price for not preparing themselves in 1973. Two prominent Israeli-American philanthropists, Adam and Gila Milstein, are determined not to let it happen again.
The Illusion of Safety
In 2011, Israeli-American real estate developer and philanthropist Adam Milstein spoke to a gathering of Alpha Epsilon Pi. He told them he'd learned one lesson as a result of serving during the Yom Kippur War: never underestimate your enemies.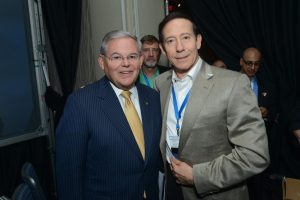 Milstein was transported from central Israel to the Sinai Peninsula following reports from Mossad that Egypt and Syria would attack in the afternoon hours or at sunset on October 6, 1973. The Mossad cable's message was distorted by the time it reached commanders, leading them to believe the attack would definitely occur at sunset, at around 5:20 p.m.
As they waited in the Sinai in the early afternoon, Milstein's artillery unit saw planes traveling overhead. They assumed the planes were Israeli Air Force planes going through practice exercises, but when the planes began to bomb them, they knew they were being attacked.
The Israelis took heavy losses as the Egyptian army crossed the Suez Canal. Simultaneously, Israel was almost defeated when Syria attacked the Golan Heights. Israel turned events around in the Golan Heights within 48 hours, and by mid-October, Adam Milstein, as a member of General Ariel Sharon's division, crossed the Suez Canal to drive the Egyptians from the Sinai.
Three weeks after the Six Day War, Yitzhak Rabin had made a speech while receiving his honorary doctorate from Hebrew University, which Howard Sachar quoted in his 2013 book, "A History of Israel: From the Rise of Zionism to Our Time." Rabin spoke about how Israel overcame its enemies despite their superior weapons and fortifications, discussing "our airmen, who struck the enemies' planes so accurately that no one in the world understands how it was done and people seek technological explanations or secret weapons."
Unfortunately, Israel got carried away with its belief in its military might instead of remembering Rabin's explanation for why Israel won: "Only their personal stand against the greatest dangers would achieve victory for their country and for their families… if victory was not theirs the alternative was annihilation."
Adam Milstein never forgot how quickly the Zionist dream almost perished in October 1973. "Until our last day on Earth, we should never stop being humble," he told members of Alpha Epsilon Pi. "Never get so caught in chasing your own recognition that you lose sight of who you are."
From Israel to America
Adam Milstein grew up in Haifa. His wife, Gila, was born in Morocco. She experienced anti-Semitism personally as a child, growing up in a country where the Jewish people had no freedoms and no rights. Arab children would throw pieces of glass and rocks at Jewish children whenever they went outside.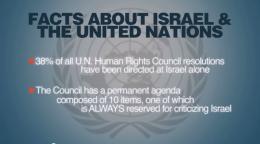 One day, Gila's family squeezed as many possessions as possible into a suitcase. They told everyone they were taking a vacation, but instead, they fled to France. When she arrived in Israel at age 6, she finally knew she had a place to call home. "We felt like it was our place," she said in an interview, when she and Adam were honored for their service to StandWithUs. "We had everything kids need growing up."
Gila went to nursing school at age 18. Three years later, she found herself treating soldiers wounded in the Yom Kippur War. She and Adam decided that if he came home from the Sinai in one piece, the two of them would get married. They married, and Gila became an officer in the Israeli Defense Forces medical corps. Their first daughter was, in Gila's words, "an army baby." Adam graduated from Technion, and the Milsteins moved to the U.S. with their two daughters. They intended to stay just long enough for Adam to earn his MBA from the University of Southern California.
After graduation, Adam and Gila decided to stay and work in America for a little while to offset Adam's educational expenses. Adam began working as a commercial real estate agent, eventually meeting David Hager, an Israeli investor. The two of them, along with partner Robert Neal, built Hager Pacific Properties into one of America's leading commercial real estate investment firms. Soon, more than a decade had passed, and the Milsteins hadn't gone back to Israel. They were part of the yerida, living in the Diaspora.
Sitting on a Time Bomb
Like many Israeli-Americans, the Milsteins made a good living in America, but they never expected to stay. They were "sitting on suitcases," as the expression goes, assuming they'd return to Israel.
One day, Adam mentioned to his daughters, who were in high school, that he wanted them to marry Jewish men. They asked him, "Why?" "I didn't have a good answer for them," Adam told Aish.com. "They pointed out that I myself lived a totally secular life. Why should they do otherwise?"
Adam realized that he and fellow Israelis living in America rarely integrated deeply into American Jewish life. In Israel, Jewish life was automatic. Everything ran according to the Jewish calendar. Israelis celebrated Jewish holidays in schools, with families, and in the public sphere. No one paid a fee to join a synagogue.
In the diaspora, Jewish life isn't automatic, and between synagogues and private Jewish day schools, it can get expensive. When Israelis assume they are going home — sitting on suitcases — they don't pour money into assimilation. Parents feel Israeli, but one day they wake up and realize they hadn't given their children a connection to Jewish life and Jewish heritage. "In America, if you don't make it happen," Gila said, "it just doesn't happen."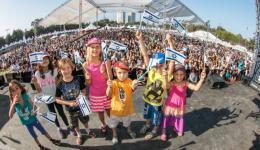 The Milsteins realized that he was no longer just Israeli, something that hadn't fully sunk in even when they obtained American citizenship in 1986. "It would be more appropriate to call us Israeli-Americans," Adam said. "We grew up in Israel, most of us served in the army, and our character was galvanized by the time we served in Israel."
Yet they no longer lived in Israel, and they were assimilating unintentionally — and rapidly — into secular American life. "You are part of the diaspora, but you don't think so," Adam explained, "because you always think you'll go back home." In other words, they weren't sitting on suitcases. They were sitting on a time bomb.
Regaining Identity
Adam started attending Aish L.A. events and studying weekly with Aish HaTorah Rabbi Dov Heller. "I realized the only way maybe to correct my ignorance and mistake as an Israeli father," he told an AIPAC gathering, "was to get closer to Jewish life and to demonstrate to my daughters that I was proud of my Jewish heritage and that our future, as a Jewish family, was of extreme importance to me."
Adam and Gila's quest to reconnect to Jewish life didn't stop with their family, even after their daughters both married Jewish men. They also understood the financial obstacles presented by private Jewish day schools and synagogue membership. To recapture the hearts of Israelis in America, and to forge a new Israeli-American community, the Milsteins turned to something both universal and without cost: the Hebrew language.
The Adam and Gila Milstein Family Foundation launched Sifriyat Pijama B'America to give Israeli-American children access to Hebrew storybooks. For no cost, Israeli-American families received children's books written in the Hebrew language containing lessons about Jewish life and Jewish values.
The Milsteins weren't just hoping to capture interest from Israeli-American children. They were making a direct play for the hearts of their parents. "We hope that once they read the books to their children, it will create an appetite for more Jewish life," Adam said. "We are trying to reach out to Israelis and embrace them and bring them back to Jewish life, Jewish education, and the Jewish people. Otherwise they might be lost completely."
The Milsteins also started supporting other organizations, like Taglit-Birthright Israel and Israeli Scouts, to expose Israeli children, teenagers, and young adults to Israeli culture. However, they also noticed how public opinion, particularly with the launch of the Boycott, Divestment, and Sanctions (BDS) movement against Israel, was starting to turn against the Jewish people in their homeland.
They watched as anti-Semitic events on college campuses increased, and they knew they had to do something. To do nothing would mean underestimating their enemies. Thanks to the Yom Kippur War, the Milsteins knew better.
Galvanizing a Community
Adam and Gila never saw themselves as deserters of Israel. They saw themselves as ambassadors, doing their miluim service by supporting Israel in America.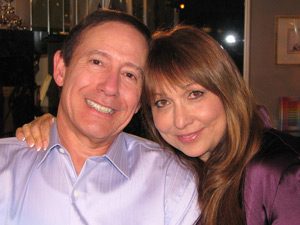 "We have always told everyone around that we are a strategic asset for the state of Israel," Adam said. "But now it's becoming clearer and clearer that we indeed are ambassadors for the state of Israel here in the United States. We care, and we are willing to go on the offense. Not too many Jews are willing to do so."
The Milsteins support AIPAC, StandWithUs, the Israeli-American Council, Hillel, Alpha Epsilon Pi, and many other Jewish organizations not only with their money but also with their time. Adam in particular works to coordinate the efforts of many Jewish organizations, helping them avoid duplicate effort and duplicate spending. All in all, Adam and Gila donate a large portion of their income, and half of their time, to their philanthropic efforts.
"Adam is strategic and he has become a tremendous role model for other philanthropists to follow," says Roz Rothstein, CEO of StandWithUs. "He is not only generous and makes good work possible, he is a good listener who recognizes the strengths of each organization and helps bring organizations together for the greater good of Israel and the Jewish people."
In fact, Adam and Gila have never stopped defending the people and the country they fought years ago to protect. "As philanthropists, Gila and I wake up each morning focused on two basic goals: strengthen the Jewish people and strengthen the Jewish state," Adam said.
Never Again
Increased anti-Semitic vandalism and other incidents on college campuses, like the questioning of Rachel Beyda at UCLA, were thought to be outliers in the United States. The Jewish people have long faced discrimination in Muslim countries and in Europe, but many felt safe from overt anti-Semitism in the U.S.
Sentiments have changed as BDS infiltrates college campuses, winning over college students by aligning itself with progressive environmentalist and pro-LGBT groups. Instead of thinking deeply about the end goal of BDS — an end to the state of Israel — students have embraced a dangerous herd mentality. The Milsteins welcome discussion of possible solutions to the Israeli-Palestinian conflict, but they don't hesitate to defend Israel against those who would see it disbanded or destroyed.
In addition to pledging their lives to protect their home and the Jewish people, they're calling on others to take up their cause. "What we as from our members and from the people of the community," Adam says, "is just 'get active.' Get active in charity. Support politicians so that your vote will be heard."
Time and time again, the Jewish people have faced discrimination and annihilation all over the world. It's something too many people are too eager to forget; but the Milsteins, their memories forged by what they faced in the Yom Kippur War so long ago, will not let complacence take hold.
"We have a responsibility to remind the world," Adam explained, "that a connection between the people of Israel and the land of Israel is unbroken and unbreakable."