This article was originally published in Newsweek on January 12, 2021.
For the past four years, I have been a supporter of President Donald Trump. Yet with the impending inauguration of president-elect Joe Biden, I recognize that now is the time for all Americans—Republicans and Democrats—to come together.
We may, for the first time ever, have found an encouraging model for cooperation in a region long bedeviled by conflict: the Middle East. In recent months, we have witnessed the paradigm-busting peace and normalization agreements between Israel and moderate Arab countries, such as the United Arab Emirates, Bahrain, Sudan and now Morocco.
In addition to advancing social and economic developments in the Middle East, the new alliances are positioned to counter radical Islamist regimes, such as the Islamic Republic of Iran, and radical terrorist groups, such as the Muslim Brotherhood, Hamas, Al-Qaeda, and ISIS.
For its part, Iran is racing to develop nuclear weapons and ballistic missiles, sending troops and mercenaries to overtake Iraq and Syria and utilizing proxies like Hezbollah in Lebanon and the Houthis in Yemen to attack American soldiers and other countries such as Israel and Saudi Arabia.
Normalization promises to bring peace and prosperity to a region destabilized by radicals for far too long and should inspire us to treat each other with greater respect in America amid intensifying political polarization, despite our differences. Americans must now work together and push back against radical movements across our political spectrum that aim to undermine our country's deepest-held values.
Some radical domestic groups and even the most radical members of Congress have boasted of their opposition to the Abraham Accords and other agreements promoting Middle East peace. Instead, they take the side of Iran and the terrorist organizations that undermine our values and any chance at progress.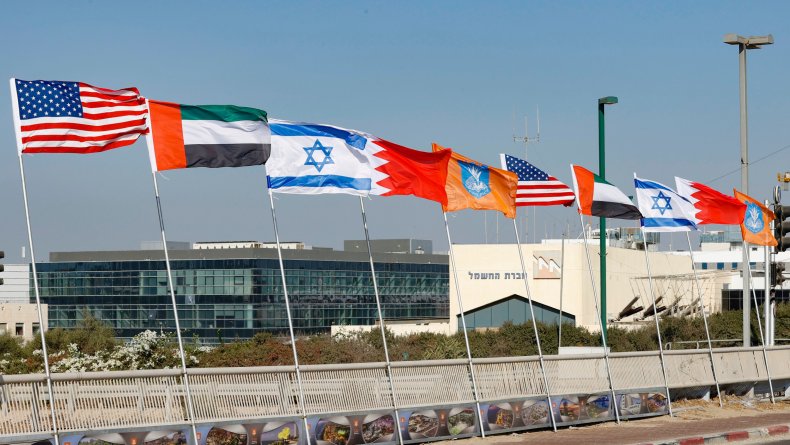 The most noted ideologues in Congress support the anti-normalization efforts and sympathize with the hardline Boycott, Divestment, and Sanctions movement. They are joined by radicals from the far left, extremist Muslims and factions of the far right.
Like most Muslims living in the Middle East, the majority of Muslim-Americans are peaceful and patriotic. They immigrated to America in search of freedom, opportunity and prosperity. Many, like me, are big believers in the American dream. That's why I am committed to building coalitions with Muslim groups in the U.S. based on a shared vision for America, free of hate and bigotry.
Joe Biden has positioned himself as a moderate who aims to unify America. To achieve this goal, his administration will need to stare down the anti-normalization, the anti-peace camp that is not only antisemitic but also opposes American values and our way of life.
The venom of anti-normalization embodies the exact qualities that Americans need to reject in these precarious times.
For years, I have warned about the danger of this anti-American global menace, and I will continue to call out hate wherever I see it. During my tenure as chairman of the Israeli-American Council, I shared the stage with President Trump as well as Majority Leader Schumer and House Speaker Pelosi. I am always willing to listen to and have conservations with those with whom I disagree, even passionately.
This is Biden's time to combat the intolerant forces of the Left, the Right and religious extremism that have been a deadly threat to America. During the Biden administration, Americans can continue to promote peace and prosperity by championing normalization and uniting against domestic radicalization.
This moment is about making America strong and fighting for our values, which are universal. With all the upheaval and anguish we have faced this past year amid the pandemic and political uncertainty, I enter 2021 with an open mind. This is how I see my role as a citizen in the months ahead, and I hope all Americans—whether they supported President Trump or president-elect Biden—will join me.
Adam Milstein is an Israeli-American philanthropist and entrepreneur. He and his wife Gila co-founded the Adam and Gila Milstein Family Foundation, providing charitable and philanthropic services to a wide range of organizations to strengthen the Jewish people and the U.S.-Israel relationship, as well as combat bigotry and hatred in America. He can be reached at [email protected], on Twitter @AdamMilstein, and on Facebook at www.facebook.com/AdamMilsteinCP.