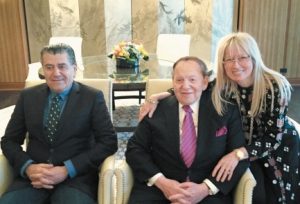 To ardent Zionists, leaving Israel for any reason is a betrayal of the Jewish people. In reality, the yerida has been good for Israel and continues to benefit the country in many ways. From the positive contributions of Israelis in the diaspora to the way Israelis abroad have brought significant investors back with them, it's time to acknowledge that those who left aren't yordim; they're essential ambassadors for their homeland.
Not as Many Have Left as You Think
Despite certain rhetoric about how too many Jewish people have left Israel for other countries, Israel actually has fewer citizens living abroad than most other countries in the world. About 4 percent of the Israeli population, or 230,000 people, have moved to other parts of the world. Most countries, in contrast, lose about 8 percent of their population to emigration.
Israeli government ministries often claim that 1 million Israelis live abroad, but it's a statement not supported by Israel's Central Bureau of Statistics. Pew Research, which recently constructed a Global Religion and Migration Database, estimates that only 230,000 Israeli Jews have emigrated outside Israel.
BRINGING NEW BUSINESS BACK WITH THEM
Israel created a surplus of highly skilled and trained workers, second only to the U.S. In such a small country, it's difficult to offer sufficient opportunities to these workers when so many overseas firms welcome them with open arms. Even when workers leave, however, many return and bring new business with them. The introduction of companies like Google, Intel, Microsoft, and Alcatel-Lucent back into Israel — thanks to innovative Israelis who left and returned — has created new jobs within Israel to absorb more of Israel's highly educated workforce, making it less tempting for future generations to leave.
Dov Frohman was born in Amsterdam, and his parents died in the Holocaust. After living in an orphanage, he moved to Tel Aviv and was adopted by relatives. He graduated from Technion and went to America, earning his master's and doctoral degrees at U.C. Berkeley. He went to work for Fairchild Semiconductor in 1965 before transitioning to Intel in 1969.
After leaving Intel to teach in Ghana for a couple of years, Frohman returned in 1973. He helped Intel build a small chip design center in Haifa in 1974. Today, one in 10 Israelis works for Intel, thanks to the vision of someone who left and returned. The yerida isn't always a brain drain; it's often a speculative investment with massive ROI.
Israeli Expats: Strategic Ambassadors
The U.S. has by far the largest population of Israeli expats, many of whom hold dual U.S. and Israeli citizenship. Economy Minister Naftali Bennett has praised Israelis abroad, particularly those living in America, for their activism. He has called them "ambassadors" dedicated to strengthening the state of Israel and the Jewish people.
In Israel, Jewishness is automatic. Everything runs according to the Jewish calendar, and holidays are celebrated nationwide by schools, businesses, and private individuals. For many Israelis, integrating in the American Jewish community has been a struggle. "We were completely ignorant of the challenges of Israelis living in the diaspora," says Adam Milstein, co-founder of the Israeli-American Council, "including the importance of connecting with Jewish life and Jewish education."
Part of the problem is that Jewish life in the diaspora gets expensive. American Jews primarily build cohesion within their synagogues and around private Jewish day schools, and membership comes with significant costs. "American Jews already have an infrastructure to pass Judaism on to their children. Israelis have nothing," Milstein told Aish.com. "They rarely belong to any synagogues because it costs a substantial amount of money to become members."
Also, Israeli-Americans have a certain psychology which comes from "sitting on suitcases;" the idea that somehow, someday, they'll eventually return home. Because they assume they're headed home, they don't work to build connections and community with American Jews — or with one another.
"They come to America to make a good living, and they're living well, but they're not involved in politics, not involved in charity. They're not part of a community," Milstein explains. "As the saying goes, they're sitting on their suitcases. They don't realize that they are actually sitting on a time bomb."
FINDING THEIR VOICES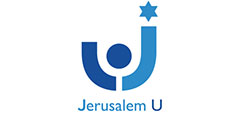 Milstein's journey to reclaim his Jewish roots began when he realized his daughters, who were also born in Israel, had no desire to marry Jewish men. "At that point, I realized the only way maybe to correct my ignorance and mistake as an Israeli father was to get closer to Jewish life," he told an AIPAC gathering, "and to demonstrate to my daughter that I was proud of my Jewish heritage and that our future as a Jewish family was of extreme importance to me."
He started by attending Aish L.A. events, near Encino where he lives with his wife Gila, and by studying with Aish HaTorah Rabbi Dov Heller. As he strengthened his connection to his roots, he realized that Israelis in America had created no identity for themselves. "It would be more appropriate," he says, "to call us Israeli-Americans. We grew up in Israel, most of us served in the Army, and our character was galvanized by the time we served in Israel."
Both Adam and his wife Gila served in the Israeli Defense Forces. Adam marched across the Suez with General Sharon's battalion during the Yom Kippur War, and Gila served as an officer in the medical corps. They came to the U.S. in 1981 so Adam could attend graduate school at the University of Southern California, and they became American citizens in 1986. Along with Israeli investor David Hager, Milstein built a lucrative commercial real estate partnership, but making money for money's sake seemed like an empty pursuit. Hager, a Reform Jew, introduced him to his belief in ma'aser, or tithing, catalyzing Milstein's own philanthropic journey.
The Israeli-American Council began as the Israeli Leadership Council in 2007. Founded after the second Lebanon War by Milstein and other prominent Los Angeles Israeli-Americans, the IAC became an umbrella organization for other Jewish charities in the area. Just as is common in Israel, many American Jews and Israeli-Americans had initiated philanthropy under the "my own NGO" model. The IAC, along with the Milstein Family Foundation, has helped multiple Jewish organizations share their resources, focus on their missions, avoid duplicate work, and get more done for Israeli-Americans and all Jewish people.
Milstein, Haim Saban, and other IAC members and backers have worked hard to educate politicians in Washington, D.C., about the real situation inside Israel. They've also worked to counter the influence of Boycott, Divestment, and Sanctions (BDS) on college campuses and in political discourse all over America. "As philanthropists, Gila and I wake up each morning focused on two basic goals," Milstein says. "Strengthen the Jewish people and strengthen the Jewish state."
SUPPORTING ISRAELI-AMERICAN KIDS
The Milsteins started their effort to bring Israeli-Americans together not with the Jewish religion, but with the Hebrew language. They founded Sifriyat Pijama B'America, a program providing Jewish storybooks, written in Hebrew, to young Jewish children in preschool and early elementary grades. In addition to sending books to individual families, the Milsteins have worked to get Sifriyat books into Jewish day schools. They hope that Israeli-American families will integrate with American Jews through participation in Jewish day schools even if they don't join a synagogue.
Adam and Gila also hope introducing Israeli-American to reading Hebrew will help their parents feel a yearning for Jewish life. "We are trying to reach out to Israelis and embrace them and bring them back to Jewish life, Jewish education and the Jewish people. Otherwise they might be lost completely," Adam explained in an interview. "We hope that once they read the books to their children, it will create an appetite for more Jewish life.
"What we are truly seeking to do," he continued, "is to build communities with Jewish day schools as their focal point and help Israeli-Americans — especially those who are unaffiliated with Jewish institutions — to connect with Jewish life and Jewish education." The Milsteins have also supported speaking day camps and BBYO, a program for Jewish student leaders in their teens.
HELPING YOUNG ADULTS
Building Jewish identity starts with young children, but the Milsteins also fight hard for the hearts and minds of young adults. Many Israeli-American and American Jewish young adults face challenges on college campuses that promote BDS ideology.
Rachel Beyda, a sophomore at UCLA, made news this year when UCLA student council members questioned her participation in Hillel and Sigma Alpha Epsilon Pi. When Beyda was nominated for the judicial board, they asked whether her Jewish affiliations meant she could remain objective and treat all students equally. Although the students later apologized for their questions, Beyda's situation is just one example of rising anti-Semitic sentiment on college campuses, which is encouraged by the herd mentality accompanying BDS.
To help Israeli-American young adults feel a connection to the homeland, the Milsteins support Taglit-Birthright Israel. Taglit sends Jewish young adults who have at least one Israeli parent on an all-expenses-paid journey to Israel. "When an Israeli-American comes on Birthright, the impact is probably five times more than the impact on Jewish-Americans," Milstein told Jewish Journal. "The reason is simple — Israeli-Americans are connected to Israel already."
In addition, the Milsteins support AIPAC's Campus Allies program, which sends student leaders not of Jewish descent on a similar trip to Israel. "I think the Israeli people are best equipped to communicate the truth about Israel," Milstein says. ""They know the Israeli people, they know that we have very high standards of human rights and freedom, they know the propaganda war of Hamas and Iran."
Unbroken and Unbreakable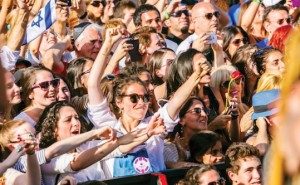 For Milstein and other Israeli expats, standing up for pro-Israel causes is their miluim. "We have always told everyone around that we are a strategic asset for the state of Israel," Milstein says, "but now it's become clearer and clear that we indeed are ambassadors for the state of Israel here in the United States."
To help Israeli-Americans remember their connection to the homeland, the IAC has organized multiple Celebrate Israel events. Last year, they hosted events in Los Angeles, Boston, New York, Las Vegas, and Pembroke Pines, Fla. Designed to celebrate Israel's Independence Day, festivals feature items like large Wailing Wall replicas and recreations of Jerusalem's busy marketplace. Festivals draw thousands of Jewish people and non-Jews alike; the Los Angeles celebration alone welcomed over 15,000 last year.
The Milstein family might never return to living in Israel the way Dov Frohman did, but they still consider themselves both Israelis and Americans. And they're taking a page from the American Jewish playbook by setting an example of philanthropy, both for Israelis and Israeli-Americans. "To have money just for the purpose of having more of it is completely meaningless," Adam Milstein says. "Once we have financial freedom, we should use our means, our knowledge, our experience, and our conduct for the betterment of our people — Jewish people and the state of Israel."
The Milsteins recently helped fund a documentary called "Body and Soul: The State of the Jewish Nation," which was designed to tell the story of the Jewish people and explain the current state of affairs in Israel. It's part of a continued effort to educate voting adults and politicians about the realities in Israel, a project essential to the IAC's mission. "What we ask from our members and from the people of the community is just 'get active,'" Milstein says. "We don't care whether it's the American Jewish community or whether it's AIPAC or whether it's Zionists of America. Just get active in the political circle. Get active in charity. Support politicians so that your vote will be heard."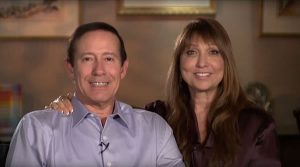 Instead of hurting the Jewish state by leaving, expats who left and returned, like Frohman, and expats like the Milsteins, who stayed, both serve an important purpose. "We have a responsibility to remind the world that the connection between the people of Israel and the land of Israel is unbroken and unbreakable."